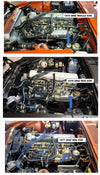 Intake Side Braided Brake Master Vacuum Hose Excat Reproduction for 1971-'73 Datsun 240Z (*Can be adapted to 280Z US))
Product Information:
Part number: #14-J4205
Make/model: 1971-'73 Datsun 240Z 
Descriptions:
Exact Reproduction braided vacuum hose
For Datsun 240Z Series 2 (~7/1971-'73) US LHD
Reproduction of OEM #47471-E4603

Incompatible with Series 1 cars

FOR 280Z US LHD Cars:

This hose can be adapted on 1975-78 280Z LHD cars: See the last photos for reference. If you have 1976-76 with straight vertical fitting coming from intake manifold, you could use this hose as it is. If you have Later type 1977-78 Type extended curbed fitting pipe, you need to cut one end to adapt this hose. 
Free shipping for US main island / Estimated rate for international shipping is $18.

Dear international customers: Delivery fee varies depending on the destination country, size and weight of the order. Please email us at support@jdm-car-parts.com for a shipping quote to your address. We will send you a confirmation email with the final price. Please reply the email and accept the shipping fees to have your order shipped.