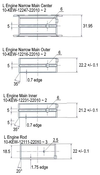 Kameari Racing Type Low-Friction Main Bearings for Nissan L Engines (Individual Sale)
Product Information:
Part number: #10-KEW-122XX~
Make/model: Nissan L engine
Descriptions:
Engine main bearings for Nissan L engines
Kameari race-spec low-friction type
Individual purchase only; You must add each bearing to the cart manually
To buy as a set, click here:
For rod bearings, click here:


Pricing Chart (ea.)
| | | |
| --- | --- | --- |
|  Type | Normal | WPC |
| Main center | $29 | $39 |
| Main outer | $28 | $35 |
| Main Inner | $28 | $35 |
High-quality product made in Japan
*Special order item-No return and No refund.
What is WPC?
WPC is a proprietary surface treatment used in motorsports and industrial applications. It reduces surface friction while simultaneously improving durability.
For more information, click here.
Free shipping for US main island / Estimated rate for international shipping is $38
Dear international customers: Delivery fee varies depending on the destination country, size and weight of the order. Please email us at support@jdm-car-parts.com for a shipping quote to your address. We will send you a confirmation email with the final price. Please reply the email and accept the shipping fees to have your order shipped.